Spirit of Christmas 2021
Saint Paul's Anglican Church – Ipswich – December 4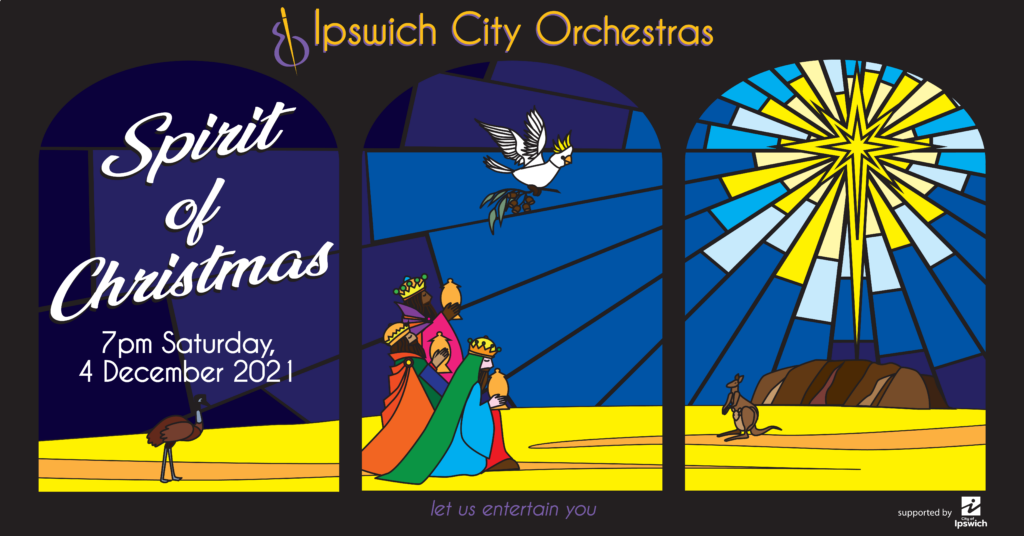 Let us entertain you as we reflect on the Spirit of Christmas with a concert of traditional, classical and contemporary Christmas music performed by professional musicians and associated artists.

With everything from your favourite carols to a trip on the Polar Express, this family friendly event has something for everyone.

Also featuring a selection of Australian Composed music from Betty Beath and Sandra Milliken, be transported to the heart of Christmas by our String Orchestra, Brass Quintet, Vocal Octet and the magnificent Pipe-Organ of St Paul's.

The Spirit of Christmas 2021 is made possible with the support of Ipswich City Council through the Major Funding Program.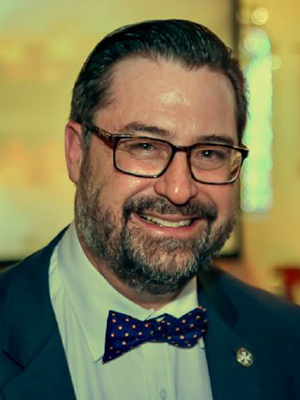 President's Christmas Message
Christmas is once again upon us! The time for great food, great company and a new pair of socks has arrived for 2021.
Covid-19 has again impacted upon all of our lives however the Ipswich City Orchestras have delivered a variety of concerts through the Ipswich Region and the Greater Scenic Rim.

We congregate throughout the world at festive events, church services and carols to celebrate the gift of Christ's birth or simply enjoy the company of friends and family.

We are incredibly fortunate to share with you another curated program of classical and contemporary Christmas music performed by our wonderful musicians.

From all of us here at Ipswich City Orchestras we wish you and your families a very safe and Merry Christmas.
Christopher Trace
LL.B. (Hons) GDLP MBA MQLS
President
---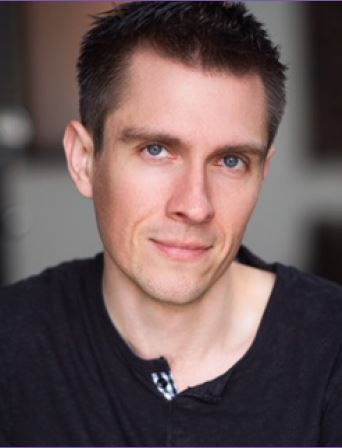 Artistic Director – Patrick Burns
It is with great joy and greetings of the season that we present to you our Spirit of Christmas concert.
Whilst the music of Christmas is often a cause for joy and celebration, today's concert also provides room for pause and reflection. In a year that has been trying and turbulent, especially for the arts community, it is wonderfully fitting that we are able to welcome back Adrian Head, who conducted our Bush Fire Relief concerts at the beginning of the year.
We are also joined by eight wonderful local soloists, along with the musicians of the musicians of the Ipswich City Orchestra as we celebrate some of the quieter and more evocative music of Christmas.
We are also excited to continue our spotlight on Australian composers, as we share with you a selection of music by a composer well known to Ipswich audiences, Sandra Milliken.
Thank you so much for joining us and continuing to support these incredible local artists and may today's concert herald in a festive season that is truly full of comfort and joy.
---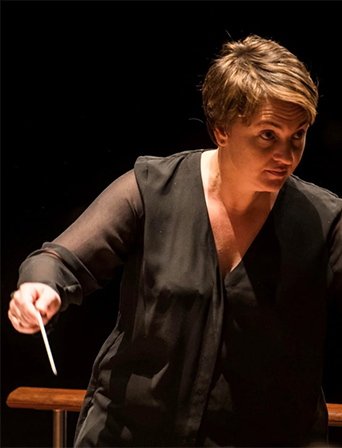 Stefanie Smith
Guest Conductor
Stefanie Smith is a Freelance conductor based in Brisbane where she works regularly with Queensland Symphony Orchestra undertaking a broad range of duties, Brisbane Philharmonic Orchestra and Brisbane Symphony Orchestra as well as a number of ensembles across the state.

Stefanie has acted as assistant conductor for the Opera Beatrice and Benedict and as a sessional academic at the Queensland Conservatorium Griffith University where she assists with condcuting duties with the Symphony Orchestra and Wind Orchestra and teaches the undergraduate conducting courses.

She is the founder and conductor of the ensemble Consorte Eclettica, which supports emerging local artists in South-East Queensland, premiering and performing chamber orchestra works in collaboration with other art forms.

As a DMA candidate at Queensland Conservatorium Griffith University, Stefanie is researching the careers of emerging Australian conductors.
---
2020 Programme
Vocal Ensemble, Brass Quintet & Percussion
HODIE CHRISTUS NATUS EST Sandra Milliken
Full Company
JOY TO THE WORLD Lowell Mason arr. J. Rutter
String Orchestra
PASTORES A BELÉN Traditional arr. L. Anderson
IT CAME UPON THE MIDNIGHT CLEAR Edmund Sears arr. L. Anderson
Organ & Brass Quintet
JESU, JOY OF MAN'S DESIRING J.S. Bach arr. G. Cherry
Vocal Ensemble, String Orchestra, Piano & Glockenspiel
BAMBINO DALLE STELLE (Child of the Stars) A.M. de'Liguori arr. S. Milliken
Full Company
HARK! THE HERALD ANGELS SING F. Mendelssohn arr. D. Willcocks
Trio – Manuao Madar, Kellie Wilson, Carly Quinn
ANGELS EVER WATCHING Sandra Milliken
Violin – Helen Carvolth & Piano – Eduarda van Klinken
Vocal Ensemble, String Orchestra, Piano
FALL ON ME I. Axel, C. Vaccarino, M. Bocelli & F. Zampaglione arr. S. Milliken
Soloists Julie Sibley & Troy Castle
String Orchestra
AWAY IN A MANGER Traditional arr. L. Anderson
Vocal Ensemble, String Orchestra and Organ
IN THE BLEAK MID-WINTER G. Holst arr. P. Burns
Solists Manuao Madar & James Fox
Brass Quintet
O, HOLY NIGHT A. Adam arr. A. Frackenpohl
String Orchestra
SERENADE FOR STRINGS 2ND MVT. Edward Elgar
Vocal Ensemble, String Orchestra & Organ
THE SHEPHERD'S FAREWELL From L'Enfance du Christ Op.25 Hector Berlioz
Full Company
GOD REST YOU MERRY, GENTLEMEN Traditional arr. D. Willcocks
String Orchestra
WASSAIL SONG Traditional arr. L. Anderson
Full Company
O COME, ALL YE FAITHFUL J.F. Wade arr. D. Willcocks
---
---
Credits
Conductor – ADRIAN HEAD
Host – SELINA MCMAHON
VOCAL ENSEMBLE
Julie Sibley | Manuao Madar | Kellie Wilson | Carly Quinn
Tom Holownia | Ronan King-Rose | Troy Castle | James Fox
STRING ORCHESTRA
VIOLIN I
Helen Carvolth Concert Master
Samuel Andrews
Hayden Burton
Donna Jones
Amy Phillips
Laura Thomson
VIOLIN II
Marguerite Sopinski
Celine Crellin
Alexandra Gorton
Tom Riethmuller
VIOLA
Kathryn Fletcher
Matthew Ryan
Teena Sullivan
CELLO
Alex McPherson
Amy Allen
Allan Hall
DOUBLE BASS
George Valenti
Michael O'Loughlin
BRASS QUINTET
TRUMPET
Tony Lashmar
Michael McKay
FRENCH HORN
Andrew Kopittke
TROMBONE
Jamie Kennedy
BASS TROMBONE
John Cosic
PERCUSSION
Zach Brankovich
Featuring
Eduarda van Klinken on Pipe Organ and Piano
---
Thank you Ipswich City Council
This beautiful concert was made possible through the generous support of the Ipswich City Council. The Orchestra and members are very grateful for the Council's ongoing patronage of the Cultural Landscape of the Greater Ipswich Region.

Thank you to our Supporters
ARTtime
Blackstone-Ipswich Cambrian Choir
CPC Productions
Heritage Conveyancing
Ipswich City Council
Jennifer Howard MP
Jim Madden MP
Lance Castle Photography
Rotary Club of Ipswich City
St Paul's Anglican Church
Kay Dee Promotions
Debbie Lewis – Graphic DesignMerry
Special Thanks