Youth & Community Orchestral Workshop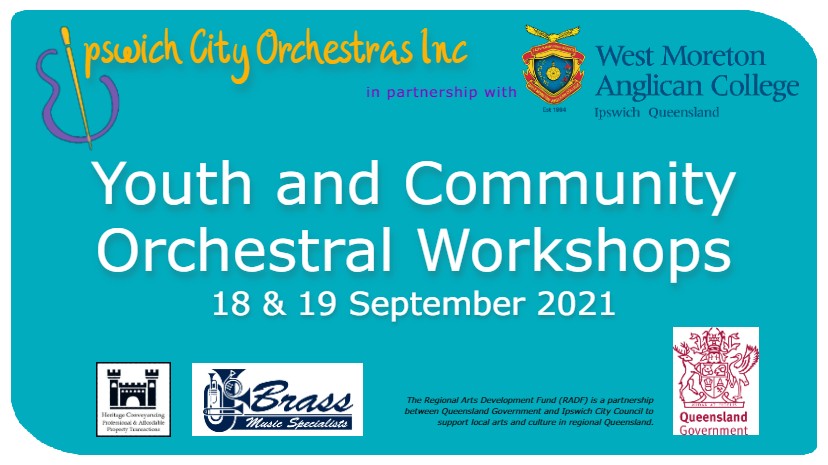 ---
Thanks to support from the Regional Arts Development Fund, Ipswich City Orchestras Inc will be holding Orchestral Workshops over the weekend of September 18 & 19 this year.

The two-day intensive program of sectional and orchestral rehearsals alongside the professional artists of the Ipswich City Symphony will culminate in a public concert on the Sunday evening.

The workshops are open to young people who are studying an orchestral instrument. This study may be co-curricular or extra-curricular and all students aged between 12 and 21 years are encouraged to register.

Eligible instruments are: Flute, Piccolo, Oboe, Cor Anglais, Clarinet, Bass Clarinet, Bassoon, French Horn, Trumpet, Trombone, Bass Trombone, Tuba, Timpani, Percussion (including mallets but not drum kit), Harp, Violin, Viola, Cello, Bass.

Music educators are also encouraged to register for the workshops as a PD opportunity. Our music educators will participate in the massed orchestra and, while the students attend sectional rehearsals, rehearse with the Educators Orchestra to be featured in the public concert.

The full workshop itinerary is below and also available as a downloadable PDF.

Registrations open Monday 14 June and close Friday 23 July.

Cost is $40 per participant with light morning and afternoon teas included.

Participants will need to bring their own lunch and we would love you to join us for a social sausage sizzle on the Saturday evening.

The Workshops and Public Performance will be held in the Performing Arts precinct of West Moreton Anglican College, 8 Keswick Road, Karrabin 4306.

*Musically advanced children aged 10 and 11 years may be considered, please contact the workshop administrator admin@ipswichcityorchestra.com.au or 0412 011 790 during business hours.
---
Please note that Ipswich City Orchestras reserves the right to make audio and visual recordings of the workshops and performance to be used in the conduct of The Association's activities in perpetuum. Associated waivers and permissions form part of the registration process.
---
Workshop Itinerary