Patrick Burns
Chief Conductor
Patrick Burns was born in Sydney, Australia and is the chief conductor and music director of the Ipswich City Orchestra and XL Arts Inc. In 2018 and 2019 Patrick was the Hephzibah Tintner Conducting Fellow with The Australian Ballet, Opera Australia, and the Sydney Symphony Orchestra and also The Robert and Elizabeth Albert conducting Fellowship with The Australian Ballet.
In 2018 and 2019, Patrick has conducted performances for the Australian Ballet with Orchestra Victoria, The Adelaide Symphony Orchestra, and The Australian Opera Orchestra. He has also conducted Orchestra Victoria in regional performance and acted as Assistant Conductor to Simone Young with the Sydney Symphony Orchestra. In 2019 he served as Assistant Conductor to Andrea Molino in Opera Australia's production of Wozzeck.
Internationally he has made guest appearances with the National Theater of Serbia (Otello), State Opera of Bulgaria Ruse (Rigoletto, Nabucco, Turandot), and the Pazardzhik Symphony Orchestra in Bulgaria. In 2017, he was the assistant conductor with British Youth Opera and conducted the Cover Cast performance with the Southbank Sinfonia. He won the Jury's Prize at the 2015 Blue Danube International Opera Conducting Competition in Bulgaria and the Orchestra's Prize in 2016 Black Sea Opera Conducting Competition in Romania.
To assist his conducting development, Patrick was awarded several development grants and scholarships. He was awarded the inaugural Australia Council Conducting Fellowship in 2007 which enabled him to work locally with the Queensland Youth Orchestras under the tutelage of John Curro. In 2010 and 2011 he was awarded the Ivy May Pendelbury Scholarship from Melbourne University.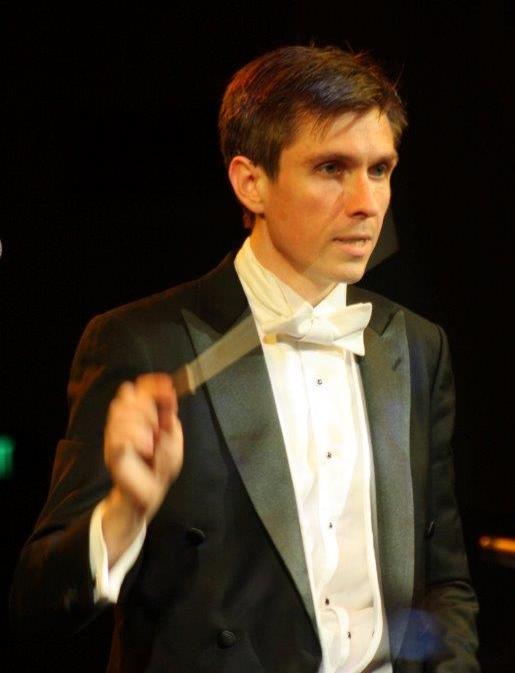 In 2013, Patrick was awarded an Artstart grant from the Australia Council and was the winner of the Italian Travel Scholarship from Dante Alighieri Society of Melbourne which enabled him to complete language studies in Florence.
Aside from his professional engagements, Patrick has always had a passion for community music-making. From 2010 to 2014 Patrick was the Music Director for the Monash University Choral Society and from 2011 to 2014 was also the Music Director of the Victorian Youth Symphony Orchestra. He has twice led the Queensland Wind Orchestra to win first place in the A Grade National Band Championships in 2007 and 2014. Since moving to Melbourne, he has worked with numerous community groups in Victoria including the Ballarat Symphony Orchestra, Melbourne Citi Opera, Melbourne Opera, Opera Studio Melbourne, Preston Symphony Orchestra, Stonnington Symphony Orchestra and for the charity fundraising group Feature Set in support of Oz Child. He has also recently started working for the inspirational School of Hard Knocks Association, working with several of their choirs across Melbourne.
Patrick began his conducting studies whilst completing his undergraduate studies in French Horn at the Queensland Conservatorium. After returning from a year abroad travelling and studying in Germany in 2009, Patrick took up residence in Melbourne where he completed his Masters of Music in Conducting under the guidance of Professor John Hopkins. He is an alumnus of the Symphony Australia conductor development program, which has seen him participate in workshops across Australia with Orchestra Victoria, the Adelaide Symphony Orchestra, Queensland Symphony Orchestra, and Tasmanian Symphony Orchestra and in New Zealand with the Auckland Philharmonia under the guidance of Christopher Seaman, Johannes Fritzsch, Sebastian Lang-Lessing and Baldur Brönnimann.
Previous Conductors
Derek Taylor MBE 2004 – 2007
UK Military Bandsman, Bandmaster, Director Of Music
16th/5th The Queen's Royal Lancers
School Bandmaster, Kneller Hall
Director Of Music, Royal Military Academy, Sandhurst.

Jason Barry-Smith 2007
JasonBarry-Smith, born in Brisbane, Queensland, is a former student of Kedron State High School. He graduated with a Medal of Excellence from the Queensland Conservatorium of Music in 1991. He later studied at the Hochschule für Musik und Theater München with Professor Hanno Blaschke during 1989/90 and later in London with Janice Chapman in 1999 and in Rome with Margaret Baker-Genovesi in 2002.
He has received numerous accolades; in 1992 he won the Marianne Mathy Scholarship (The Mathy) in the Australian Singing Competition, in 2001 he won Opera Foundation Australia's Italian Opera Award, and for the first five months of 2002 he was resident at the Teatro dell'Opera di Roma, Italy.
As a concert soloist, Barry-Smith has performed in Fauré's Requiem (Melbourne Symphony Orchestra), Haydn's Paukenmesse (Queensland Philharmonic Orchestra), Bach's St John Passion (Brisbane Chorale), Nigel Butterley's Lawrence Hargrave Flying Alone (Sydney Symphony), Bach's St Matthew Passion, Christmas Oratorio and Purcell's Ode to St Cecilia's Day (Bach Society of Queensland), and as the baritone soloist in the Australian composer's Richard Mills 2001 work, Symphonic Poems. In 2012, Barry-Smith was a soloist in the Australian premiere of Graun's 1755 oratorio Der Tod Jesu. He was the soloist in HK Gruber's Frankenstein!! at the 2016 Four Winds Festival in Bermagui, New South Wales.