Brass on Safari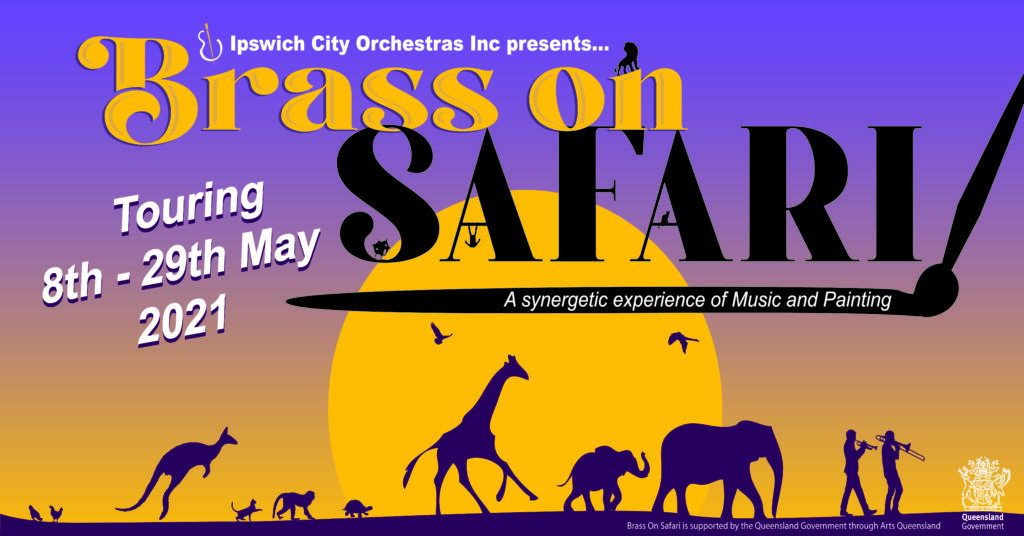 Join the Ipswich City Brass Quintet for a unique cultural experience on the theme of animals. "Brass on Safari" combines classical music and visual art in this premier collaborative arts event.

During the concert, witness the creation of a work of visual art while you travel the world enjoying music from French composer, Camille Saint-Saëns "Carnival of the Animals", Russian composer, Modest Mussorgsky "Pictures at an Exhibition" and Australian composer Graeme Wright Denniss "The Three Horned Cat", along with popular favourites like "Baby Elephant Walk".

Each of the 6 events engages a different visual artist to produce an artwork during the performance with the audience able to closely observe the process as it is projected onto the big screen. The artist brief is to produce a work in response to the music program either in it's entirety or a specific piece.

The result of the tour will be a collection of 6 artworks, by 6 different artists in response to the same music program.
Tickets & Venues
Tour 2021
8 May – Ipswich
St Paul's Anglican Church
2pm & 6pm
Tickets Here
22 May – Esk
Somerset Civic Centre
2pm
Tickets Here
22 May – Laidley
Laidley Cultural Centre – 7pm
Tickets Here
29 May – Beaudesert
The Centre Beaudesert – 2pm
Tickets Here
ph: 07 5540 5050
29 May – Boonah
Boonah Cultural Centre – 7pm
Tickets Here
ph: 07 5463 3068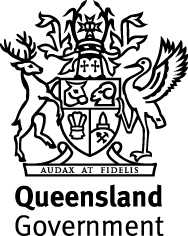 Brass on Safari is proudly supported by the Queensland Government through Arts Queensland.
The Quintet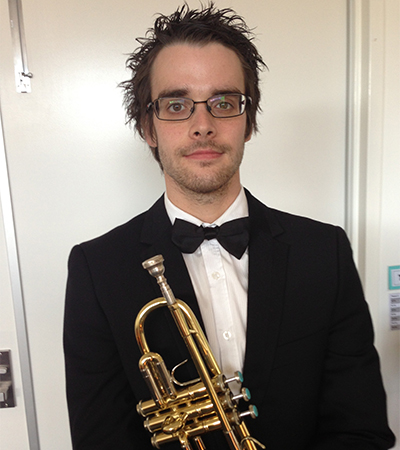 Michael McKay
Trumpet
Michael McKay is a Classical Trumpet player and music educator from Brisbane. As a student Michael was a member of both the Queensland and Australian Youth Orchestra Programs, where he developed his love of orchestral music. Studying with Phil Ryan, Michael graduated from the University of Queensland in 2009 and holds both a Bachelor of Music and Graduate Diploma of Education.

Currently the principal trumpet of the Brisbane Symphony Orchestra, Michael has toured with various groups and renowned artists around Australia, New Zealand, Singapore, Germany, France Austria and Italy. In recent years he has expanded his horizons beyond the orchestral world, playing in many different pit orchestras for musical productions around Brisbane as well as the popular brass ensemble Full Spectrum Brass.

Michael is an instrumental music teacher for education Queensland in the Ipswich area and is looking forward to inspiring his students through the fun and engaging Brass on Safari program.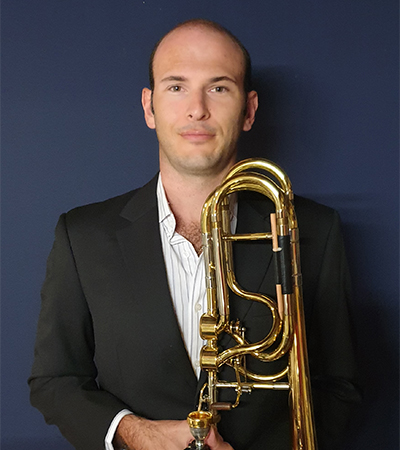 John Cosic
Trombone
Beginning his musical journey at the age of 9 in the state primary school Instrumental Music Program in West Logan, John went on to secure positions in the Queensland Youth Orchestra's Wind Ensemble and the Young Conservatorium Big Band before continuing to further his craft at the Queensland Conservatorium of Music under the tutelage of then bass trombonist of the QSO, Tom Coyle.

After graduating with a Bachelor of Music, John then completed a Post-Graduate Diploma of Education and is currently employed fulltime as an Instrumental Music Teacher with Education Queensland where he has worked across four different regions at more than twenty different schools teaching children instrumental music.

John has performed on bass trombone and tuba with many different artists and organisations across many genres, including the Ipswich City Symphony Orchestra, Brisbane Symphony Orchestra, South Brisbane Federal Band, Full Spectrum Brass, Redlands City Big Band and Biloela District Band, to name a few.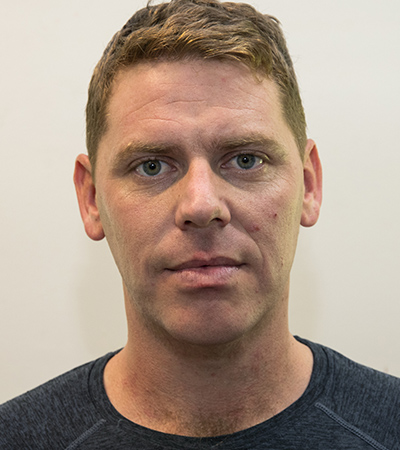 Josh Young
Trumpet
Growing up in Brisbane, Josh majored in trumpet performance at the University of Queensland, graduating with a Bachelor of Music in 2008. Following a few years as a freelance musician around South-East Queensland, in 2010 he gained a chair in the Australian Army Band.

Serving with the Army Band has given Josh the opportunity to perform all over Australia, he has lived in Melbourne, Wagga Wagga, Canberra, Townsville and now finds himself happily back in Brisbane. Other perks of service have involved travel and the opportunity to perform around the globe from Europe, including France, Switzerland and Belgium to South-East Asia in Indonesia and Tonga.

Josh has loved his time working and travelling around the country and the rest of the world but is delighted to return to his hometown and once again be a part of the music scene in South-East Queensland.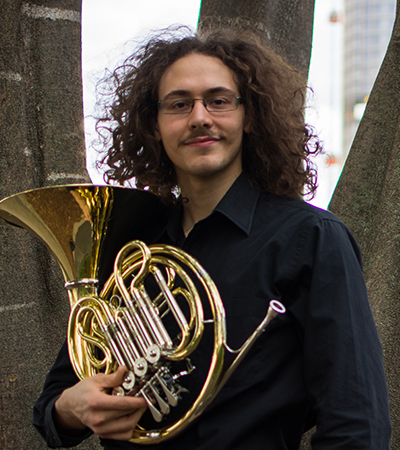 Jacon Aspinall
French Horn
A dynamic and flexible performer, Jacob holds a Bachelor of Music (Performance) in French Horn from the Queensland Conservatorium (Griffith University) where he studied under the prestigious tutelage of Peter Luff and Ysold Clark.

Performance highlights during his studies include appearing with 'Qhorns', performing for the Queensland Music Festival (QMF), working under the baton of Johannes Fritzsch for the QCMGU Opera School's 2015 production of Hansel and Gretel, playing concerts as part of both the Jani Haenke wind quintet and West Winds quintet. Jacob also had the opportunity in 2017 to perform a world premiere Australian composition at the 49th International Horn Symposium in Brazil.

With his current employer, the Australian Defence Force Army Reserve Band, he has travelled internationally and across far North Queensland. In addition to his work with the Band, Jacob also enjoys regular concert and recording work, recently recording Faure's Requiem with the Cathedral of St Stephen.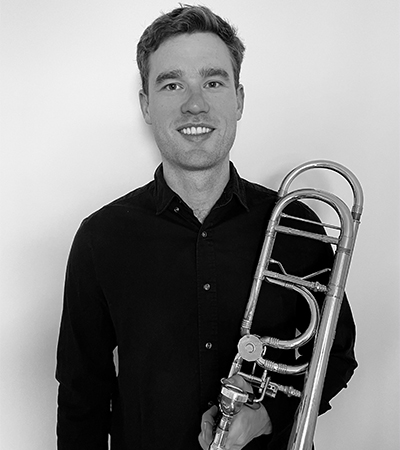 Michael Ingle
Trombone
---